Carbondale Main Street hosts monthly Fourth Friday Fairs and weekly Brown Bag concerts. We're currently planning for a Progressive Patio Tour in July. Continue reading for more information about what we're up to this summer!
The Fourth Friday Fairs are an evolution of the Friday Night Fair, occurring once a month instead of every week. Each event boasts live music, food vendors, crafts, activities and more. Dates are: June 24, July 22, August 26 & September 23. New this year, we've incorporated specials and promotions from Town Square businesses, with plans to create a monthly happening that serves the entire length of the strip.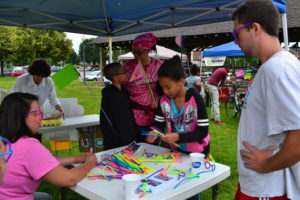 Brown Bag concerts are held Wednesdays 12pm-1pm in the Town Square Pavilion through July hosting a different local musician each week. There is a weekly drawing for a $25 Gift Card to a randomly chosen downtown business, compliments of Sambla.
Our staff is regularly attending New Student Orientations, providing the first look at downtown Carbondale for incoming Freshmen and transfer students. We pass out downtown maps as well as maps of the city as a whole. We are also showcasing our Facebook "Business of the Week"* videos encouraging students and their parents to "Follow" us to learn more about their new downtown!
As always, we offer façade improvement grants to all of our downtown businesses who are interested in sprucing up the outside of their buildings. This includes but is not limited to; awnings, paint jobs, signage, window treatments, etc. We will match projects up to $2500 with board approval. Business owners can contact Meghan Cole Meghan@CarbondaleMainStreet.com for more information before beginning a project.