Semi-finalist winners for America's Best Communities Prize Competition were announced recently and Carbondale's submission was not selected.
More than 350 communities nationwide entered the competition after its launch in 2014, Carbondale was selected as a quarterfinalist in April of 2015 and was awarded $50,000 in seed money to develop a Community Revitalization Plan.
Sandel & Associates were contracted to engage the community and hosted a series of public events to gather input from the community. The writing team included Gary Williams, Interim City Manager, Travis Taylor, City Planner, Meghan Cole, Executive Director of Carbondale Main Street, and Steven Mitchell, Network Provider Coordinator for Connect SI.
The team feels the Connecting Carbondale Playbook is a strong platform and is pursuing ways to  move forward with the plans and strategies detailed within. Individuals are still being sought who might serve as community Champions.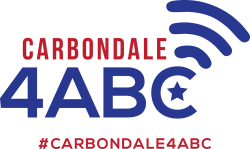 Click here to read the digital copy of Connecting Carbondale, the Playbook that will be used to transform our city into a regionally, nationally and globally recognized innovation community.