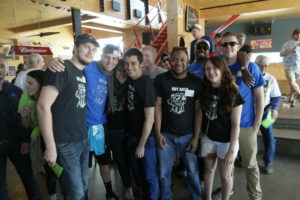 THE CARBONDALE CLASSIC
Putt-putt your way around town during
the Carbondale Classic!
The Carbondale Classic has truly become one of downtown Carbondale's signature events.
The 9th Annual Carbondale Classic will be Saturday, March 24th from 10am-5pm!
CLICK HERE  for a registration form.
If you have Adobe Reader, you may submit the form via email. If not, you may print it.
Interested golfers can sign up and pay the $120 fee for a team of four
at any of the participating bars, which will include:
Hangar 9, the Carbondale Elks Club, Global Gourmet, Tres Hombres,
Underground Pub & Barrel Room, The Cellar,
Sidetracks, Pinch Penny Pub, Italian Village,
Fat Patties and Key West! (best 9 scores are taken)
Golfers must be twenty-one years of age.
Winners will receive cash prizes
for the first three places ($500 $300 and $200, respectively),
gift certificates, bragging rights and a lot of fun!